Modern Japanese Bridal Gowns for your Cherry Blossom Themed Wedding
Quick, what pops into your head when you hear the phrase "Japanese Wedding Gown"?
I'm 100% sure it's an image of a kimono, am I right? Of course! A kimono is Japan's National Dress. It's a traditional T-shaped, straight-lined garment worn in the country by women, men and children on special occasions (although a few older women and men still wear the kimono on a daily basis). So by default, it's what Japanese brides traditionally wear on their wedding day.
But what about if you're not Japanese — or maybe you're only part Japanese — but you want a Japanese, Zen, or Cherry Blossom wedding theme for your big day? The solution: wear a Japanese kimono dress, 21st century style!
The most beautiful, contemporary Japanese wedding gowns I've ever chanced upon online are on Culture Bridal Couture, a Sydney, Australia-based team of highly skilled artisans and experienced couture seamstresses, headed by designer and owner Lisa Merton. Their gowns feature rare textiles from around the world, including vintage Japanese Kimonos and Obis, as you will see below.
(Traditional bridal kimono photo by Dave Jenkins, shared under a Creative Commons license)
All photos  @copyright their respective photographers via Culture Bridal Couture
See more of their gorgeous work in their gallery.
***
Don't forget to check out the customizable Cherry Blossom wedding invitation set at our stationery store. These will perfectly complement your Sakura wedding theme.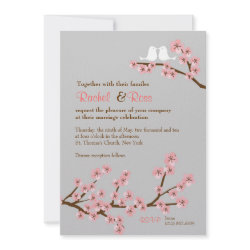 Cherry Blossom Garden Invitation (vertical)
Visit poptasticbride on Zazzle.
***
If you like Japanese-designed gowns, please visit my separate blog that's strictly for Japanese wedding dresses.