Rock and Roll Wedding Invitations: New design for 2011

Elegant Rock 'n' Roll Wedding (Black / Pink) by poptasticbride
Rock-themed weddings were hot in 2010 so we have a brand new design for this year's wedding season! Compared to last year's grunge fest, this year's rock and roll wedding invitation design is more subdued. This invitation set is perfect for you if you prefer your rock music elegant (Morrissey, anyone?) and not-so-rough around the edges.
The artwork and layout is inspired by  classic rock posters and the cards are available in three color combinations: (1) black, hot pink and white (see above)…
(2) pewter, pink and white

Elegant Rock 'n' Roll Wedding (Pewter/Pink/White) by poptasticbride
and (3) pewter, pink and black.

Elegant Rock 'n' Roll Wedding (Pink/Pewter/Black) by poptasticbride
Thanks to the wonderful Zazzle technology, everything can be customized online! Just replace the names with yours and your groom's/bride's and input your preferred text in the spaces provided. The invitations come with matching RSVP cards, thank you notes, and envelopes.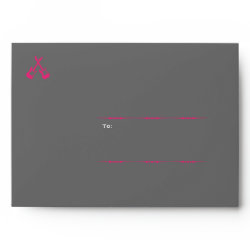 Elegant Rock 'n' Roll Wedding by poptasticbride
See the entire collection here.
* If your rock music style is the raw, folk-rock or indie kind, please check out my rock and roll hand-drawn heart and roses invitation design. 🙂