Funky Wedding Ideas & Inspiration
It's about time I updated you on what's new at the shop, and trust me, there are a lot of exciting new stuff and I'm delighted to present them to you today.
1. Custom Jelly Belly Candy Tins (yes, candy included), Favor Tags, and Address Labels 
We now (finally) offer the above mentioned in our store and the designs go with our existing invitation sets, allowing you access to a complete collection in an instant. When you click on the links, replace the names and date with your own on the text fields provided to preview how they'll look. Here are a few samples:
(See all customizable candy tins or view them by invite design collection)
(See all favor tags or view them by invite design collection)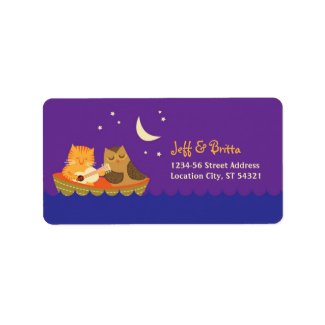 Owl & Pussycat (Purple) Wedding Address Labels
(See all address labels or view them by invite design collection)
2. Poptastic Bride x Envelopments
Zazzle has teamed up with Envelopments which means you can now purchase their lovely envelope folders to go with Poptastic Bride's funky wedding invites.  Keep your 5×7 invites, RSVP cards , maps, and any other insert you might want us to customize organized in style. 10 unique color options are available.
Not a shop update but I just wanted to inform you of…
3. The revised blog schedule
As I mentioned yesterday, I missed posting here after my short break but to be honest, there's just too much going on IRL so it seems I can't focus all my energies on blogging anymore… That doesn't mean I'm quitting though, I love this "job" so much to give it up so I'm just giving myself a few days off.
 Starting today, please expect to see a maximum of three real wedding / e-session / styled shoot feature posts a week (so do keep sending me those awesome non-cookie-cutter weddings because they will make their way here). The two remaining days will now be reserved for updates, printables and freebies, and other post ideas (if any) that may come up now that I'll have a little more free time.
On that note, please allow me to thank you dear friends for your continued readership. Do come back tomorrow for a cute and playful e-session in a rustic setting.