Have you seen our Cherry Blossom collection yet?
In case you haven't been to Poptastic Bride's online shop in the past week, I would like to announce that we have recently designed a new collection in time for spring called the Cherry Blossom Garden.
But first, I would like to introduce you to the sakura and its seeming mystique:
From wikipedia: A cherry blossom is the name for the flower of cherry trees known as Sakura in Japanese. In English, the word "sakura" is equivalent to the Japanese flowering cherry. Cherry Blossoms are indigenous to many Asian states including Japan, Korea, and China.
Every year the sakura symbolizes the arrival of spring as they bloom majestically for one whole week, just one week and that's it for the rest of the year. In Japan cherry blossoms also symbolize clouds due to their nature of blooming en masse, besides being an enduring metaphor for the ephemeral nature of life.
This mystique (and of course their beauty) has made them a very popular motif for weddings all over the world, and it doesn't matter whether the wedding is held in spring or not. Below is our tribute to this pretty bloom. The designs are available on wedding invites, wedding binders, save the date cards and stamps, thank you cards, Keds shoes, and more items.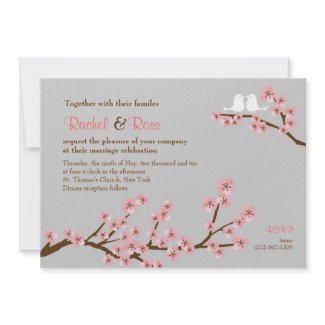 Cherry Blossom Garden Invitation
As always, the products are 100% customisable. Just replace the text and bride & groom's names with your own and voila, you have your very own wedding invitation in no time at all. Be sure to check out our step-by-step instructions on how to personalize your Zazzle invitation.