School Themed Wedding Inspiration (part 1)
As I was compiling a back-to-school entry for our other store's t-shirt blog, I figured a "school" theme for a wedding would be so much fun to plan and execute, wouldn't it? Whether you're both school teachers, librarians,  highschool sweethearts, or simply former students (hey all of us are!), a schoolhouse wedding is something everyone will enjoy going to! I researched online and learned that it's actually been done before so I thought I'd share with you some ideas to inspire those of you who are considering it as a wedding theme.
First of all, are you having an e-session? To get the theme going, you can have your engagement portraits taken at a local library (or a used book store like this couple did, photo via Pelaez Photography)
…or you can rock your sports jersey and schoolgirl skirt ala Rachel and Finn from Glee and hold the portrait session in your old high school!
You will also have to decide if you want an elementary, high school or college themed wedding to make your motif consistent.
Now for the invites:
(1) I found this really clever school wedding invitation set over at Martha Stewart Weddings composed of a letterpress invite, a map, and a reply card printed on vintage notebook paper by the bride's company, Paper+Cup. Attendance reports were used to indicate who was coming. Everything slips into a small manila folder printed with the couple's names and an address label that peeks through the outer envelope. (See this couple's school theme wedding at MSW) (2) This old school wedding invitation / save the date is a charming way to announce your engagement too! By Akimbo Design
I also found these adorable handmade schoolhouse wedding invitations  inspired by school pad paper, colored pencils, chalkboards, and composition notebooks on Etsy. Get them from (1) Two for Joy Paper (2) Grace Printables (3) Inviting Friendz (4) 0 Names Left (5) Flipawoo (6) Peapod Printables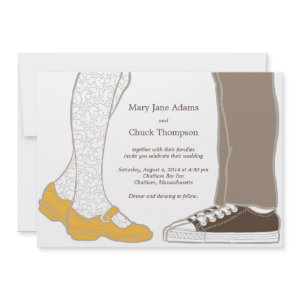 Mary Janes & Sneakers (White) Wedding Invitation by poptasticbride
Alright this is a shameless plug but I think our Mary Janes & Sneakers invite would be a good choice too, no?
Some more school themed components you can incorporate into your wedding: (1) engraved school pencils from Knot & Bow (2) Apple tea bag set by Ashlyn J Designs (3) 3-foot tall wood letters by Vintage Blue by Sophia (4) Back-to-school cookies by Cornerhouse Cookies (5) chalkboard trio by Pippin Studio (6) Apple For the Teacher cupcakes by Hello My Sweet
As for the venue, you can hold it in your backyard (photo via The Sweetest Occasion) or you could rent and dress up a high school gym (Glee photo via I Am Not a Stalker)
Styling the reception:
Some back to school wedding reception decor and table setting ideas: (1) chalkboard style place settings and (2) vintage lunch trays via Martha Stewart Weddings (3) crayon message guestbook idea via Inspired Creations (4) apple escort "cards" or thank you favors via Deck the Halls (5) back to school themed dessert buffet via Amy Atlas (6) school notebook paper place setting via Tip Junkie
School theme wedding bouquet and flower decor ideas: (1) school pencils as bouquet handle! via Deck the Halls. Flowers can also be made of folded lined notebook paper and then fashioned like these paper bridal bouquets by (2) Manda Girl Designs and (3) Only Very Small
Stay tuned for my next post for school themed wedding fashion ideas and music choices. 🙂