Robot Cakes and Wedding Cake Toppers
Sometime ago, Kathleen Butler-Donnelly of Cakes by Little Black Cat told me that she made a robot cake based on a drawing on an invite which she later realized was Poptastic Bride's own Robot Love Wedding invitation! She says her clients, couple Shikha and Tommy de Souza showed her the invite but gave her a free hand with their cake design. Here are photos of the robot wedding cake she made:
… and here's our robot love wedding invite: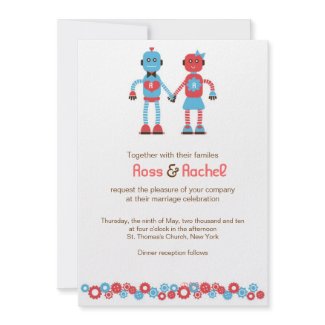 Robot Love Wedding by poptasticbride
The cake Kathleen made isn't entirely identical to the invitation but I was tickled pink that my drawing was able to inspire such an adorable creation!
While searching for more robot wedding cakes online, I chanced upon this one that looks somewhat similar to our invite design too. What do you think?
Robot wedding cake from Marilyn Mclellan's Flickr photostream
Robot theme weddings seem to be growing in popularity — after all, what could be cuter than having whimsical robot graphics and decor represent a couple's self-proclaimed geekiness? Stick with me now because I've gathered some of my favorite robot cakes and toppers below for your inspiration.
Robot Wedding Cake from Her Art She Loves' Flickr album (her shop is Robots Are Awesome)
Robot Groom's Cake from Mathews Manor's Flickr photostream
Robots on a cake from MadRoby's Flickr
Steampunk-ish robot wedding cake from Go Go Rainbow's Flickr stream

Some Enchanted Evening Robot Couple Cake Topper by Junk Bucket, $45
Sweet Sweet Love Robot Cake Topper by Junk Bucket, $40
Robots in Love by Masked Rabbit Crafts, $34.99
Robot Wedding Cake Topper by Robots Are Awesome, $80
Robot Bride and Groom by the Happy Acorn, $79.99
Made to Order Robot Cake Toppers by Robots Are Awesome, $110
Robot Couple Cake Topper by Sleepy Robot 13

Robot Wedding Cupcake Toppers by Mates Rubbish, $22 / 2 pairs

 Robot Cake Pops by Cake Pop Castle,  $21 / dozen

Fondant Cupcake Toppers by Cakes and Kids, $15.95/dozen
If you had (or are having) a robot wedding I would love to feature your wedding here on Poptastic Bride! Send me a message here.